Cattus Island County Park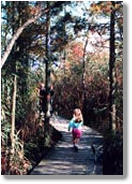 Cattus Island County Park and the Cooper Environmental Center is OPEN. Please come and visit the newly renovated building with brand new exhibits highlighting the natural beauty of the park and the Barnegat Bay! The ADA boardwalk is currently under construction and will remain closed. For further information please contact the Cooper Environmental Center at 732-270-6960.



530 acres
1170 Cattus Island Boulevard
Toms River, NJ 08753


732-270-6960

Take in the unspoiled beauty of Cattus Island County Park, which spans 530 acres and 7 miles of trails. Take a leisurely walk along the main trail to the beach, or walk a trail and enjoy many lovely vistas of Barnegat Bay. Cattus Island is home to the newly renovated Cooper Environmental Center where visitors of all ages will enjoy hands-on educational displays such as, a live view osprey cam, habitat tree and tunnel, bird viewing area, children's activity corner and a spectacular collections of live reptiles and fish. The park also contains a beautiful Butterfly Garden where you can view native plants and pollinators.



PARK HOURS - SEVEN DAYS A WEEK - DAWN TO DUSK

COOPER ENVIRNOMENTAL CENTER HOURS
WEEKDAYS 8:30 A.M. TO 4:00 P.M., WEEKENDS 10:00 A.M. TO 4:00 PM





CLICK HERE FOR DIRECTIONS TO CATTUS ISLAND COUNTY PARK

Facilities:

Nature trails, scenic boardwalks, birding, photography, conservation area, environmental education, cross-country skiing, picnic area, playground, scenic overlooks, and accessible environmental center with restrooms.

Upcoming Events and Activities:
The Cattus Island Nature Festival will take place at the Cooper Environmental Center on Saturday April 29th from 10am - 4pm. We are celebrating 37 years of connecting the community with nature! There will be nature walks, kids progrsms, seining, archery, bug races, kayak tours, live animal talks, crafts and much more! For more information, call 732-270-6960.

Park Information:



Printable brochure of Cattus Island County Park (PDF)

Brochure of the Butterfly Garden (PDF)

Cattus Island Trail Map (PDF)

Photo Gallery for Cattus Island County Park.