Beaches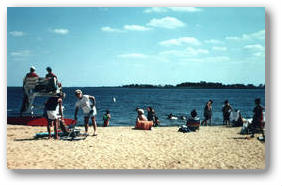 The Ocean County Parks and Recreation has three parks which offer swimming facilities.  They are:

Ocean County Park 659 Ocean Ave, Lakewood
Berkeley Island County Park 399 Brennan Concourse, Berkeley Township. 
A. Paul King County Park 2 W.Bay Ave, Stafford Township (Manahawkin)

Ocean County Park has a beautiful, freshwater lake, sandy beach, lounge chairs and small pavillion area. The beach at Berkeley Island County Park is on the Barnegat Bay, and has beautiful views, and a pier for crabbing and fishing.  A. Paul King County Park has a picturesque beach with freshwater lake. All beaches are staffed with lifeguards from 10:00 a.m. until 6:00 p.m. daily from mid-June until Labor Day (conditions permitting).  The best part of all is that there is never a charge to use County facilities!  All locations also have playgrounds, restrooms and picnic facilities.

Berkeley Island County Park - closed until further notice due to storm damage.